Mythic Physique:
Fitness Quest 2015
An Age of Heroes Initiative


The Elysium Project
Creating the Best of All Worlds
D/C Russ' Alignmentality site is well worth visiting and contains lots of free content that can help you answer some of life's biggest questions. It also provides you with many tools to help you discover what you'd really like to achieve, then keep you focused and motivated enough to actually go out and 'do it'. Like me, D/C is huge on Quests and being of service to the greater human community.
Resources: Beyond Bergen
Bob Proctor is a living legend in Human Empowerment circles. I've benefited greatly from his life-work, both pre- and post- 'The Secret'. When I contacted the folks at Proctor Gallagher Institite and told them about Fitness Quest 2015, they provided me with links to many free resources you can access to help you on your Quest. Bob is always on the go and doing something new, currently:the ABCs of Success. 






Larger Than Life Living in the World Today
(c) 1975-2017 Hercules Invictus
All Rights Reserved
Founded in 1975, Inner Traditions / Bear & Company is a leading publisher of books on new age spirituality, holistic health and healing, self-development, spiritual & religious traditions of the East and West, sexuality, perennial philosophy, indigenous cultures, visionary art and ancient mysteries. 
I've been reading their thought-provoking books since their company first launched and have been reviewing them for over a decade. Treat yourself by visiting to their website, there is lots there to explore!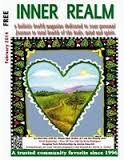 Inner Realm magazine is a must-have resource, not only in Tenafly, but throughout Bergen County and well beyond it. This monthly periodical, which is FREE in print and online, is a treasure trove of wellness for all who are metaphysically minded and receptive to exploring holistic alternatives. The folks at Inner Realm are dedicated to the comprehensive approach to Body, Mind and Spirit, and are personally committed to achieving maximum well-being by addressing all aspects of self as a Whole. They invite people to constantly explore everyday choices that work for the individual for the purpose of discovering what will move them toward maximum well-being. Inner Realm is devoted to providing all of these lifestyle choices. They focus on taking responsibility for our own level of well-being and believe that through the transformation of our Inner Realm, we will transform the world around us. Viva Inner Realm!